'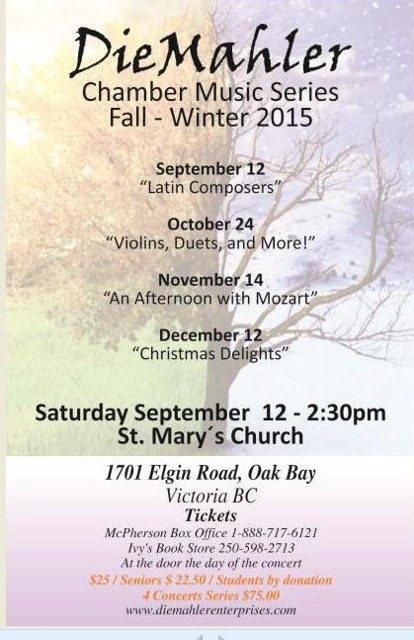 DieMahler String Quartet
Violins: Pablo Diemecke and Shima Takeda. Cello: Larry Skaggs. Viola: Elizabeth Massi.
September 12: "Latin Composers!"
October 24: "Violins, Duets, and More!"
November 14: "An Afternoon with Mozart!"

December 12: "Christmas Delights!"
November 14 Program:
French Horn Quintet, K _407
Clarinet Quintet KV 581.
DieMahler String Quartet K_157
French Horn: Karen Hough
Clarinet: Rainer Roth
Div
September 12-Program: Sonoralia Op. 3 and Eusonica #23 by Emmanuel Arias
String Quartet #3 by J.C. Arriaga and Fuga and Misterio by Astor Piazzola
______________________________________
Concerts in the Island- 2015
October 17 Qualicum Beach
For more information click here
June 17 Memorial concert
St. Mary's Church Link to see the concert click here
June 6-2:30 PM -"Music for the Americas"
DieMahler Chamber Ensemble. (Strings and winds intruments.)
Program: Premier of the Opera Concertante by Israel Cahue and Hippolyte ET Aricie by Jean-Philippe Rameau.
Pablo Diemecke, conductor and soloist
Haley Tarnow, soprano and Dawna Beach, mezzo-soprano.
Both works are for Strings and winds intruments.
Tickets: McPherson Box Office: McPherson Box Office
June 7-2:30 PM- Concert in Sooke by donation
"The performance will be at a lovely private concert hall in Sooke (stairs) R.S.V.P. If you would like to get more information send us an e-mail or e-mail: composer@isomedia.com
"Cradle Song for the Useless Man" by Brent Straughan
Haley programs are subjet to changes
Past Concerts:
February 21: "Be My Valentine".
The DieMahler String Quartet and Guest Artist: Haley Tarnow, soprano
Music by Cole Porter, Andrew Lloyd Webber, Biset, Puccini and other wonderful romantic selections.
March 28:"An Afternoon in Russia".
The DieMahler String Quartet:
String Quartet #10 and 5 pieces by Shostakovich-Gopak by Moussourgsky
April 18: "French Music Delights".
String Quartets by Ravel and Saint-Saens
May 16: "Music Around the World".*
Program: Haydn String Quartet in D minor "Quinten".
"Cradle Song for the Useless Man" by Brent Straughan
Haley Tarnow, soprano
DESCRIPTION: Like a different sparkling gem in a treasure box, each concert in this beautiful series offers a different flavour of musical colours and textures, with varied repertoire, from virtuoso classical works to gorgeous light romantic works that explore the wide range of musical emotion and expression. The DieMahler Ensemble specialisms in masterful musical artistry, vibrancy, character, and very deep feeling, leaving no musical path unexplored.